S1E1 - Welcome to Ham Radio! (Episode Zero)
April 20, 2021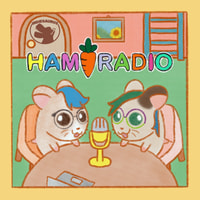 Ham-ha! (That's ham-chat for "Hello!") You found our clubhouse! Welcome to Ham Radio, a Hamtaro watch-along podcast brought to you by Gary, Mal and their rotating cast of special guests. This is "Episode Zero" where we fly solo and dive deep into the history of Hamtaro, talk about our personal histories with the series and give a complete rundown of the regular cast of hams!
Your hosts: Gary (he/they) @sukurimi Mal (she/they) @otabekvoice
Follow us on Twitter @HamRadioThePod !