S1E3 - The Lonely Snoozer Seems To Free His Mind At Night & Simply Too Fwench to do Zee Big Jump (Episodes 3 + 4) Feat: Karah Goldstein from Smol Data
August 31, 2021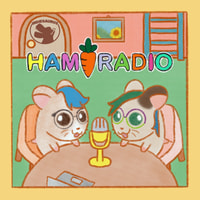 Ham-ha, to all you Hamigos out there! We are finally back with our second episode of the pod where we take a look at episode 3 and 4 of Hamtaro with our special friend and disgraced indie darling, Karah Goldstein from the band Smol Data! On this episode, we dive deeper into our conspiracy theory that Laura's parents are robots and we learn that, amazingly, French people exist!
Huge thanks to Karah for coming on the pod to discuss our favorite little guys!
Smol Data's amazing debut LP was released this earlier this year through Open Door + Broken Camera Records! You can check out Smol Data's debut LP at smoldata.bandcamp.com and preorder the vinyl over at www.opendoorrecords.org/products/699644-smol-data-inconvenience-store-lp
Your hosts: Gary (he/they) @sukurimi Mal (she/they) @otabekvoice @dailytoraji Karah (she/her) @SmolDataNY
Follow the pod on Twitter @HamRadioThePod !!!